The {11.6.17} Edit
1. Yellow 108, Luke Fedora in Earth, $90
2. The Citizenry, Paloma Throw, $155
3. Raven + Lily, Fine Folds Cuff, $98
4. Amour Vert, Adelie Dress in Ivory Navy, $138
5. M. Gemi, The Felize in Latte, $198
YELLLOW 108
Luke Fedora in Earth
$90
the stuff:
If Humphrey Bogart had Instagram, this hat would be would be all over it. Modeled after the classic 1940s style, the Luke fedora from Yellow 108 wants to be your everyday hat. We're sold, since every time we wear it, total strangers take note (of the hat, not the five day old blowout underneath).
Photo by Yellow 108 (website)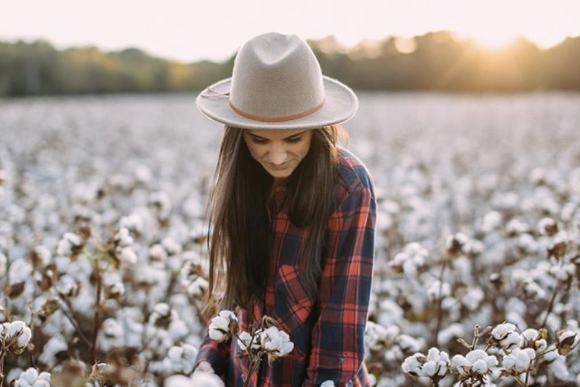 the story:
Los Angeles-based Yellow 108 is committed to using recycled and salvaged materials in their products, which are all American-made. We recycle our plastic bottles and aluminum cans--let's keep fabric and leather out of our landfills, too.
THE CITIZENRY
Paloma Throw
$155
the stuff:
Glam up your next Netflix binge and give your living room that instant done-but-not-too-done touch with this exquisite alpaca throw. Each stripe features a different weaving technique, highlighting both the skills and the artistry of the talented Peruvian weavers who crafted this throw in their remote village in the Andes. The touch of blush feels fresh and on-trend with our favorite designers, not to mention our favorite Rosé.
the story:
Besides having one of the coolest names in home goods, the Citizenry is making a difference in the lives of the people who make their stuff. Ten percent of the Citizenry's proceeds are invested directly back into the local communities where their handmade luxury goods are produced, providing artisans with tools, equipment, training, education and workshop space to build their businesses sustainably and setting them up to succeed.
RAVEN + LILY
Fine Folds Cuff
$98
the stuff:
Cleopatra may have started the trend, but Coco Chanel established the wrist cuff as the must-have accessory that never goes out of style. We're fans because unlike noisy bangles, this rustic stunner doesn't pinch or clang around when we're typing. (Pro tip: if you put it on the right spot, it doesn't even move.) Wear it to a fundraiser with a cocktail dress and keep it on the next day for a roll-out-of-bed brunch-- it'll be on point for both.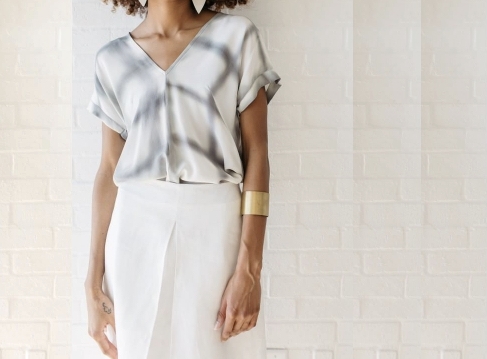 the story:
Raven + Lily's local partners employ over 1500 at-risk women in 10 countries--ladies who have been trafficked, suffer from HIV+, were previously homeless, or have come out of oppressive situations--to give them a fair wage and skills to help them thrive. If you're looking for a truly stand-out brand to support, you've found it: Raven + Lily is a certified B Corporation and was named the Best for the World in Community Impact in both 2014 and 2016. Plus, when you buy from them, you'll know exactly what your stuff is made of, down to the nitty-gritty details. This cuff, for example, is made with up-cycled brass.
AMOUR VERT
Adelie Dress in Ivory Navy
$138
the stuff:
Haven't we all wanted to be French at some point? Or at least wanted to give off that certain je ne sais 'lack of trying while still looking chic' French femme vibe? Slip on this shift and voila you've got it down. Yes, it's getting cooler outside, but this versatile piece will be tres chic with a flowy trench, booties, and dare we say…a beret? No? You're right – too far. The bell sleeve updates this classic silhouette and Breton-esque stripe. Bonus: you can wear this next summer with your strappy wedges, too.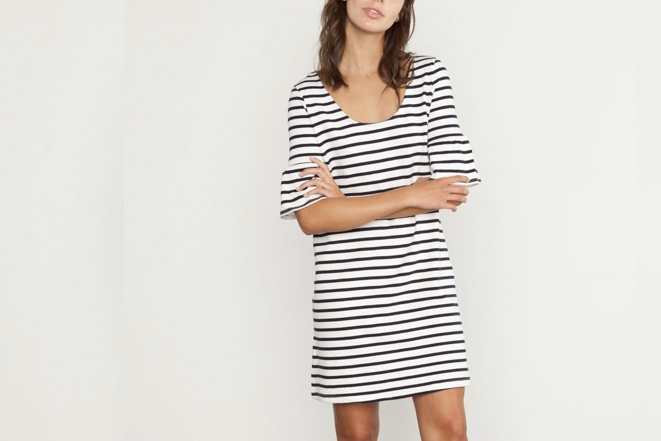 the story:
Amour Vert's on-trend basics are made with non-toxic dyes, sustainable fabrics and a zero-waste philosophy. Almost all of their products are manufactured within a 20 mile radius of the company's headquarters in San Francisco, and the brand reports that all of its factories are owned and operated by women.
Mais, oui!
Photo by Amour Vert (website)
M. GEMI
The Felize in Latte
$198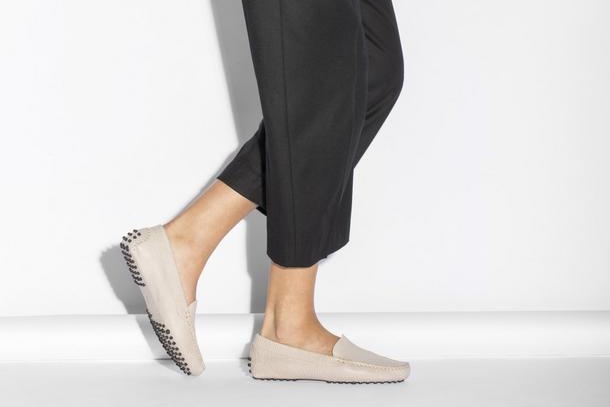 the stuff:
M. Gemi exploded on the scene with the Cerchio, their luxe leather sneaks (the waiting list was 6,000 people long when they first launched). But we're obsessed with The Felize; these iconic driving shoes come in a variety of both fun and classic shades and look great on. Don't worry, we had to Google "driving shoes" too--according to GQ (the authority on such things obvi), the moniker refers to a particular style of leather or suede moccasins with rubber-grommet soles "invented for men who wanted extra grip while driving seriously gorgeous Italian roadsters." But if you're not planning a visit to Positano in your Alpha Romeo anytime soon, we can assure you they're just as fun to wear in a VW eGolf slowly inching along the 405.
the story:
M. Gemi is an old world Italian shoemaker with of-the-moment design sensibilities. Their shoes are conceived, designed, sourced, patterned, lasted, stitched, and finished entirely in Italy, by artisans working in specialty factories in Pisa, Ancona, Napoli and Toscana. And you can tell---each style M. Gemi offers includes some sort of hand-detailing, whether it's hand-sewn uppers, hand-painted edges, or hand-cut leather. We might have taken advantage of their $25 off your first purchase offer AND their generous refer-a-friend-and-get-$50 deal to snag not one but two M. Gemi gems, the Felize and a bomb pair of heels from their "Before They're Gone" section, a limited selection of sale styles that you can search by size. There's a reason we put these as #5. You have permission to click over there . . . now.
Photo by @mgemi (Instagram)