The {11.1.17} Edit
1. Rothy's, The Point in Petal Pink Solid, $145
2. Kinsman Soap Co., Activated Charcoal Soap, $10
3. Parker Clay, Mulu Clutch in Black, $118
4. Reformation, High Cigarette Jean in Salton, $128
5. re:Loom, Early Morning Small Rug, $99
ROTHY'S
The Point Flat
$145
the stuff:
You're wearing your favorite pair of flats again. You wore them yesterday, too. Come to think of it, maybe you're wearing them too often? When you take them off they have a certain…aroma. Rothy's is here to help you, folks. Their magical flats, which come in rounded toe and our favorite bossy point, are ultra washable. Scrub 'em with a sponge, throw them in the washing machine, hose them off in the yard! Sort of like Crocs, except... not at all like Crocs. We weren't fast enough to snag the pretty Petal Pink Solid before it sold out (all proceeds went to breast cancer research), but we're loving the Flax Birdseye with our high-waisted cigarette jeans or with a work-ready dress.
the story:
Made out of recycled water bottles (from plastic fiber printed from a 3D printer, you guys!) with carbon-free biodegradable soles, Rothy's tech-forward flats are giving new life to the scourge of our oceans and landfills while giving us footwear we can feel good about. Soft and flexible, Rothy's look like high-end fabric, so no one will know you're walking around in an old Dasani bottle unless you tell them. The "re-usable" box ours arrived in wasn't our favorite design (we might have hacked it to shreds with a steak knife trying to open it), but we love how little packaging there was overall. We also love that unlike companies that can't trace their entire supply chain, Rothy's owns and controls its factory China. Oh, and bonus--though we suspect these suckers will last for years--Rothy's shoes are fully recyclable at the end of their life.
KINSMAN SOAP
Activated Charcoal Soap
$10
the stuff:
If you're still using soap with FD&C Green #3 in the ingredient list, consider this an intervention. Step away from the toxins and embrace this all-natural, hand-forged soap made with love by refugees using only 100% pure ingredients— including olive oil, beer, and the current cool kid at the beauty product table, activated charcoal. Enjoy it yourself, or save it for a stocking stuffer for your SO. Either way, you'll keep your skin and your conscience clean.
Photo by Preemptive Love Coalition (website)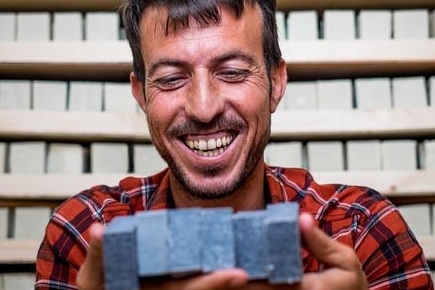 the story:
If only this soap could talk. Kinsman Soap is an effort of the Preemptive Love Coalition, an organization that's on the ground in worn-torn regions in the Middle East to provide emergency relief to refugees and
create jobs for those victimized by ISIS. In addition to bringing storied soaps and statement tees to the U.S. market, the Preemptive Love Coalition provides small business grants, tools, and coaching to refugees in Iraq and Syria so that displaced men and women can start again and flourish.
Photo by Preemptive Love Coalition (website)
PARKER CLAY
Mulu Clutch
$118
the stuff:
You want to be the girl who doesn't carry a purse, but you don't want to be the girl who spills the contents of her wallet and shatters her phone screen on the asphalt while crossing the street on Saturday night. Enter the chic Mulu Clutch from Parker Clay. Small enough to tuck under your arm, but big enough to hold all the essentials; carry it on its own or toss it in your tote when you've got your laptop in tow. Either way, you've got style in the bag.
Photo by Parker Clay (website)
the story:
We dare you to read Parker Clay's "about" page and not get a lump in your throat. Started by a Santa Barbara couple who went to Ethiopia to adopt a child (and then ended up living there for years), Parker Clay is a true example of the power of ethically-run businesses to impact communities for good. The company partners with the non-profit Ellilta - Women at Risk to provide meaningful economic opportunities for women in Ethiopia who would otherwise have to turn to the sex industry as a means to support themselves and their families. The Parker Clay production facility in Addis Ababa is supporting community transformation by providing local artisans with stable, skilled work at premium wages. All that, and their bags are some of the chicest we've found. Too many wins here to count.
REFORMATION
High Waisted Cigarette Jeans
$128
the stuff:
The throwback denim trend is here to stay, and we're fully on board. These are just high enough in the waist, just loose enough in the legs, and just the right wash to give you all the best parts of the 80s nostalgia wave with none of the teased hair or shoulder pads. Dress these up with a blazer for work (the slightly darker Baltic wash is un-distressed), or channel your inner Molly Ringwald and pair with a white tee tied in a knot to crop top length on the weekend. The more you wear these, the more lived in and comfortable they get.
Photo by Reformation (website)
the story:
Los Angeles-based Reformation is serious about eco-conscious fashion. For each garment they sell, Reformation calculates the environmental impact. For example: these jeans, made from surplus fabric, save 32 lbs of carbon dioxide, 2601 gallons of water and 3 lbs of waste. How's that for knowing what your outfit's worth? In terms of human cost, all of Reformation's apparel is produced by responsible manufacturing partners here in the U.S. or abroad, with "most" hourly workers being paid more than minimum wage and over half earning more than the L.A. living wage threshold (their impact statement says they're working towards 100% living wages across the board). We're hopeful "most" becomes "all" very soon -- it bodes well that three-quarters of the company's management team are women or people from underrepresented populations. Get it done, y'all!
RE:LOOM
Early Morning Small Rug
$99
the stuff:
We're pretty sure your current rugs are just lying there doing nothing to fight homelessness, which is why you need this sunny beauty in your life. Hand-woven by men and women in Atlanta who are experiencing homelessness or have struggled to maintain jobs, it's the perfect one-of-a-kind addition to your entryway. Plus it's reversible, so when your muddy boots trash it just before your mother-in-law shows up for dinner, flip it over like the girlboss that you are and carry on.
Photo by re:Loom (website)
the story:
re:Loom might make rugs, but they aren't fighting homelessness lying down. The company employs people who are struggling to maintain jobs, providing them with a stable salary, full healthcare coverage, and opportunities to engage in the operation of the weavehouse. If you're not in the market for a floor rug, check out their adorable mug rugs to give your coffee a comfy place to rest.